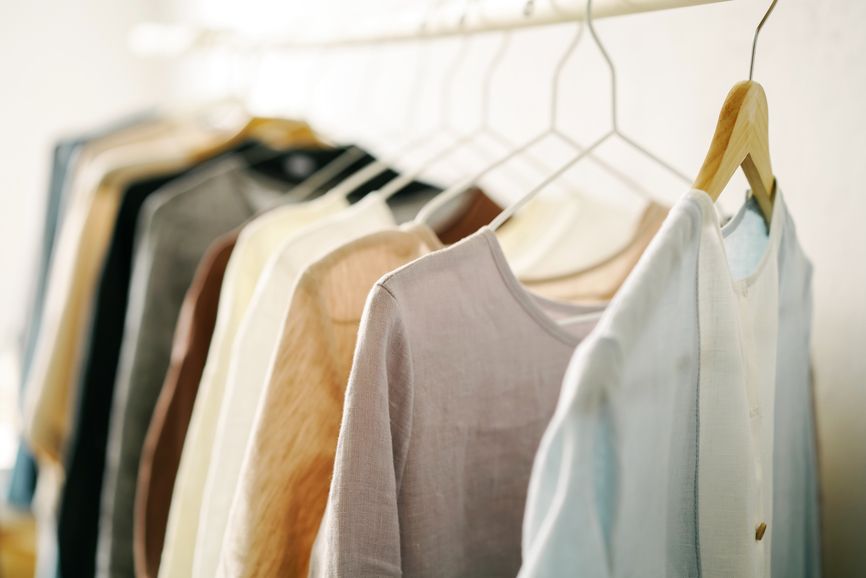 Do you waste a lot of time and money shopping for clothes, only to end up wearing a whopping 30% of what's inside your closet? Do you have a style hangover from years of fast-fashion consumption that has left you feeling gross, broke, and empty inside? Are you in a place in your life where you're more interested in investing in long-lasting, quality items you can wear again and again?
Perhaps you are ready to take an intentional, minimalist approach to your personal style!
The Capsule Styling service was born out of a personal experiment that began when I changed sizes and realized it was going to be too overwhelming (& expensive) to replace my entire wardrobe. I read up on the Capsule Wardrobe concept, gave it whirl, and was hooked (Unfancy does a great job of breaking down the basic rules). The process of whittling down my seasonal wardrobe to about 40 interchangeable pieces (including shoes) not only made getting dressed far quicker, easier, and more creative, it also enlightened me to aspects of my personal style I wasn't aware of until I tried it!
Big Benefits
Style Clarity: When you distill your wardrobe down to ONLY the pieces you love to wear, you become very clear about what best fits, flatters, feels good: your most authentic personal style.
More Time: With fewer choices, getting dressed each day takes mere minutes. You'll be able to pack your suitcase in a fraction of the time it used to take, and you will have more time to focus on what's most important to you.
Increased Creativity: Having a smaller wardrobe will force you to try new combinations and color pairings that you likely never would have dreamed up otherwise. You'll look forward to your creative morning routine.
Smarter Spending: When you commit to living with a capsule, you're also committing to making smarter choices when you shop. As you hone in on what works, the gaps will reveal themselves, and you will know exactly which pieces to buy that will get the most wear.
How it works
First, I'll send you some prep work, including my Style Discovery Worksheets, and info targeted at honing in on the capsule that will best fit your life. We will meet via Zoom in your closet to discuss your favorite outfits, why these outfits work for you, and what connects them stylistically. From there, we will select each shirt, bottom, dress, layer, and shoe that will make up your capsule, piece by piece. You'll be able to upload photos of each piece so I can integrate them into outfits for you in your Digital Capsule Lookbook. Any gaps that we notice will be discussed (like if you have a shirt shortage, or need a specific color of shoes to make more outfits work), and we will strategize a plan for adding specific items. I will provide you with a shop-able page of items you can order online to complete your capsule, and you can make your purchases at your leisure.
When your capsule is complete, you will have at least a month's worth of outfit combinations with your 40-piece wardrobe, and I will check in after a few weeks to see how the plan is working for you and what kind of revelations have come from your capsule experience.
Your Capsule Wardrobe will get you through the season (about 3-4 months), and does not include accessories, so you will have freedom to play around with your wardrobe until you get bored or the weather changes!
What Capsule Clients are saying:
"I love walking into a closet of fewer and better options! Laurel has been great at helping me pare down to what I really love and what feels fun to wear. Fewer decisions to make, and I'm feeling more creative with what it's in front of me each morning." -Julie, Austin
"Paring down my wardrobe to a capsule of things I really love has improved my outlook about getting dressed. No more looking past clothes I'm sick of or feeling like I should be wearing stuff I just don't want to wear anymore. Laurel helped me pick a few, not a lot, of great, really flexible, pieces and then made me a Look Book that put items together in simple outfits, but in combinations that wouldn't have dawned on me. And seeing how she matches items give me a template for making different matches....Laurel told me that going through this process would make me a snob about my clothes--unwilling to buy or keep something that was simply OK. She's right. In this process, I ditched two pairs of pants that weren't working for me anymore." -Kim, Austin
"OMG! The Capsule Service has made my life so insanely easy I can't even tell you!!! Seriously! I feel like we have honed in on my style more clearly than in previous styling sessions, and it's really empowering. I am packing for a trip right now, and I'm freaking out because it literally took me like 5 minutes to get all my outfits together...I didn't even have to think! Everything mixes and matches, I can take just a few pair of shoes and I'm good to go. The lookbook is amazing too because again, I don't have to think about it. I can just go, ok yeah, all that looks great to wear and boom! it's in my suitcase in like 5 seconds." -Jill, Austin
The Capsule Service is for you if:
you have a fairly full closet or at least some pieces you like that you can begin to build your capsule from (if you need more support around style development or are starting from scratch with your wardrobe, we can do a Sort Shop & Style service with a capsule focus)
you crave a more intentional approach to dressing, and to life in general
you enjoy wearing mostly neutral colors with a few fun pops thrown in
you have a busy life and/or you travel a lot and want to take the guesswork out of dressing & packing
you want fewer, better things and are interested in building a long-lasting wardrobe of quality pieces
you are interested in WHY you wear what you wear and you want to feel more connected to and confident in the clothes you wear
Are you ready to clarify, strengthen, & streamline, and your personal style?
INVESTMENT: $650 / includes up to 2 rounds of digital shopping finds