NEW: The Virtual Style Reading
As a stylist, I try to help you reframe how you look at yourself as a whole, what you've been through, are most proud of, and use all this information to draw deeper connections between you and your style. I see great personal style as a result of self-awareness and an acknowledgment of your dueling personalities (we all contain a few contradictions). When you show up as the nuanced person that you are, stylewise, you'll have an easier time creating an accurate impression, connecting with people who align with you, and you'll feel more focused and present in general.
The initial part of all of my styling services includes a portion I've started to call a "Style Reading," where I reflect with you on the slew of images you collect for me and begin to describe the themes that emerge. I can see connections between what you're visually attracted to and how you see yourself. Even though I've been a stylist for 13 years, there is something that usually happens right in the moment when I'm with you, looking at your style board, that I can't quite explain or teach, hence calling it a "reading" as if your pinboard is my crystal ball.
We will come up with a few words that resonate for you and could describe your style personality. Like "nature punk," "Miami meets Montana," "70s art poet at the beach," or "flirty apocalypse." When you have a container for your personal style, even if you and I are the only ones who get it, you can more confidently make decisions from that authentic place, instead of simply going shopping for "clothes you like."
So I present to you the Style Reading Service, where we will harness your self-awareness, weird parts, and what YOU think is sexy/funny/cool into your style so you can begin to show up more like your full self!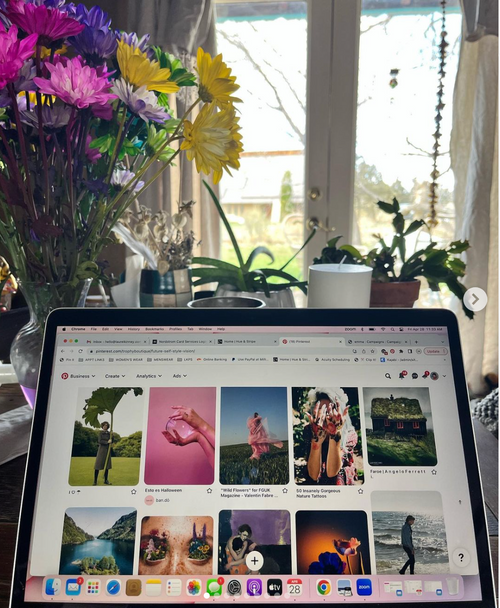 This virtual service includes:
detailed prompts for thinking about your style though a new lens

tools for creating a visual style reflection board

45-60 minute virtual meeting where we share screens and view images

discussion of the myths you may have been holding on to about your personal style

identify which aspects of your personality want to come forward in your style and how to get started building on your wardrobe from this place

action steps for diving deeper, such as 3 pieces of clothing you could add to better align with your newly defined style