Ethical fashion is a term used to describe fashion designed, produced, sold, and purchased without harming humans, animals, or the planet (read more here). Many of us are aware of the insidious nature of the fashion industry, from it's poor conditions for workers involved in production, use of harmful pollutants, overuse of carbon & water, insane amount of waste, to the damaging way fashion has historically been sold as a way of "fixing" something that's wrong with your body or overall life in general. GROSS.
Over the past few years I have personally tried to create a more ethical wardrobe, first by creating a Capsule Wardrobe, and later by vowing to purchase sustainably made clothing whenever possible. It feels good to align my beliefs with the clothes I wear, and I started to shop this way for my clients as well.
There are challenges to changing your whole shopping strategy of course. Where do you begin? How do you find sustainable brands that cater to your specific style? Isn't shopping ethically more expensive? Doesn't it take forever to find one thing?
Over the summer I started to build a spreadsheet as I shopped ethically for my virtual clients, and I created a document of sustainable style resources, everything from ethically made underwear to denim to business suiting to basic tees. Then I began to categorize them into different style vibes, price points, and shop type. Before I knew it I had a giant toolbox of ethical shopping resources!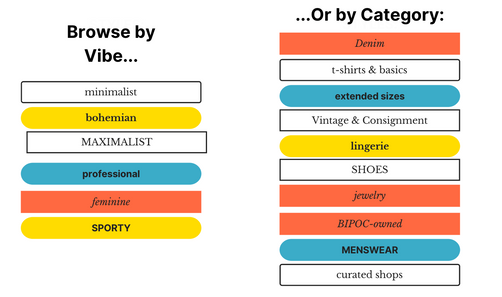 The LKPS Ethical Style Guide is meant to be used as an entrypoint to shopping sustainably, with strategies for getting started at any price-point, size, or style. I break down all the sustainable brands into categories from minimalist to menswear, and also feature BIPOC-owned and size-inclusive ethical brands.
So whether you want to break that fast-fashion habit or just start to shop more mindfully, this guide will give you everything you need to get inspired and find new styles to align your beliefs with this year.
Using the guide is easy. I did all the work to find the best ethically minded designers and retailers, so all you need to do is simply download all 87 pages and scroll away! No more time-consuming research, frustration over not finding affordable options, or worrying you've made a misaligned choice. Free yourself and your conscience up to do more frollicking in the fields (or at least to worry about something else)!
INVESTMENT: $50 for 87 pages of ethical and sustainable resources, tips for getting started on your sustainable style journey, and a sweet discount on extra support if you need it.